Comics
Issue #1: Lines in the Sand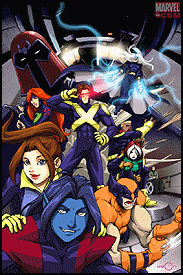 Before the code names, before the secret identities, before the world learned to hate and fear mutants, there was a young woman whose most dangerous weapon was her mind. Before costumes, before the training, and before anyone had ever heard of "adamantium", there was a frightened amnesiac searching for the truth. How does a goddess from Africa find her place in the world? How does a man without a past decide mankind's future? All heroes start with power and ambition they must learn to control. And all great legends begin with "once upon a time..." X-Men: Evolution - In the beginning, there was X!
Issue #2: Seeing Clearly
What if deadly beams exploded from your eyes? Scott Summers possesses this terrible power - and has found himself inducted into the fledgling X-Men! Now Scott - code-named Cyclops - and his teammates jet off to Alaska, where they must confront a powerful mutant detected by their Cerebro machine. But will the source of the signal be friend or foe? And when Cyclops is faced with danger, will he blink?
Issue #3: Hearing Things
Think it'd be cool to be able to read people's minds? Tell that to Jean Grey! Can she come to terms with her uncontrollable powers in time to stop the new mutant named Toad? And what does Cyclops make of the new red-haired girl?
Issue #4: Am I Blue?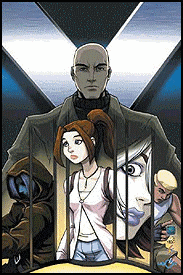 Continuing the new series based on the hit Kids WB cartoon! When four new members join the X-Men, life at the Xavier Institute changes forever! How can Nightcrawler, Shadowcat, Spyke and Rogue keep their mutant powers a secret from their friends at Bayville High? How can you be happy when you're forced to live a lie?
Issue #5: Untouchable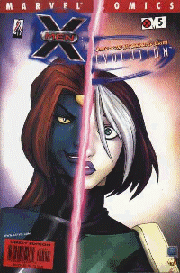 What's the difference between a rowdy gang of mischief-makers and a super-villain team? Perhaps it's the presence of a malevolent mastermind to keep the troops in line! But playing den mother is just a warm-up for the sinister shape-shifter Mystique - who's really focused on the students of the Xavier Institute, and on the new member named Rogue.
Issue #6: Just Like You
The X-Men face a new mutant. Peer pressure has never been so dangerous as when Cyclops, Jean Grey, Nightcrawler, Shadowcat, Spyke, Rogue, Storm and Wolverine meet the Mimic.
Issue #7: Beast of Burden
Meet the new recruits: Iceman, Cannonball, Wolfsbane, Sunspot, Multiple, and Boom Boom! Looks like it's time to bring in some more teachers - and luckily, Professor X gets an application from Hank McCoy, a.k.a. the bouncing blue Beast
Issue #8:Angel Undergronud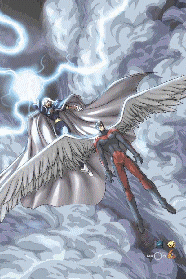 When the high-flying Angel is kidnapped by the underground-dwelling Morlocks, it's up to Storm to zoom into the sewers, overcome her claustrophobia, and fight for his freedom!
Issue #9: House Party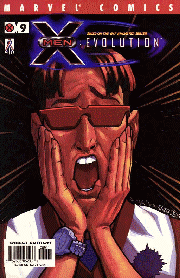 When the Professor's away, the mutants will play! It's party time at the Xavier Institute when Professor X takes a trip - but things really heat up when the Brotherhood crashes the scene! It's a special standalone story written by Jay Faeber (Noble Causes)!
Issue #10: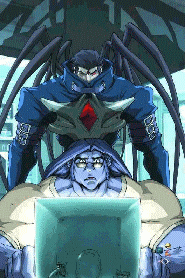 Unfortunately this issue never made it to comic book store shelves. This pic was suppose to be the cover for the 10th issue, but the creators of the comics decided to cancel the series right after issue #9.