History of Southern Shadow
The very first time I ever watched X-Men: Evolution was sometime in late April of 2001, and the first episode I ever saw was "Rogue Recruit". When I saw this episode I adored Rogue! She quickly became my favorite character after I got hooked and started watching the series on Saturdays. I searched for other X-Men Evolution sites and found that there was only one Rogue site at the time, Cryptic Darkness. I was in awe of that site, and after some thought I decided to create my own X-Men Evolution site dedicated to Rogue. So on May 5, 2001, Southern Shadow was launched. At the time I only had her biography and a few screen captures. Now Southern Shadow has grown. It provides you with an abundance of information about Rogue as well as fun stuff for the fans. Since the beginning Southern Shadow has gone through many changes. Here are some cool facts about Southern Shadow:
• Southern Shadow's original title was "Rogue's Realm", but after discovering that there was already another site with that name, I changed it.
• Southern Shadow has been hosted at Angelfire, Topcities, Megspace, Extreme Evolution (closed), and now Katacylsm's X-Men Evolution page.
Again, since then, things have improved. Currently I am still a fan of X-Men: Evolution, and I still watch the series even though it has ended. I have been the webmistress of this site for 9 years now, and also have another X-Men Evolution site dedicated to the Women of the X-Men Evolution series, which is 8 years old.
Past Layouts of Southern Shadow
Note: these are not all of the past layouts I have had, but ones I've managed to save before changing to another layout. They are in no particular order.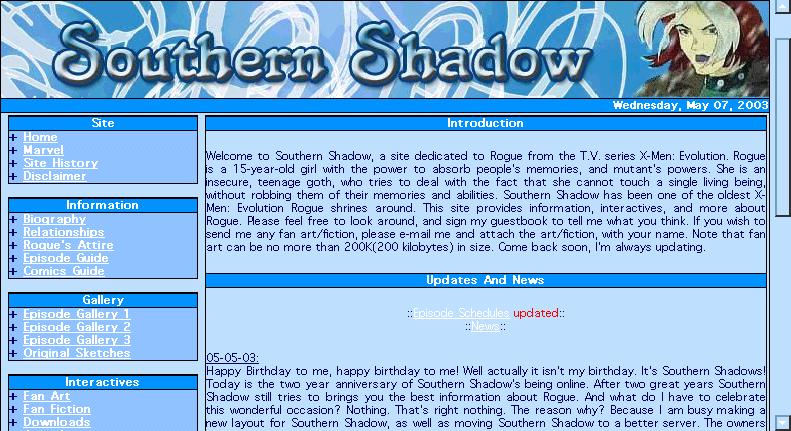 - This was one of the best layouts yet. Big thanks to Angel Dust who made it. I liked the fact that this layout was different from the rest. It wasn't dark, gloomy, or gothic. It was somewhat cheery and bright, but it still fit Rogue perfectly. Note the title graphic with the snowy look/feel and Rogue's hair blowing in the wind? Well that's what the layout was based on, and when I found it on Angel Dust, I knew the two matched.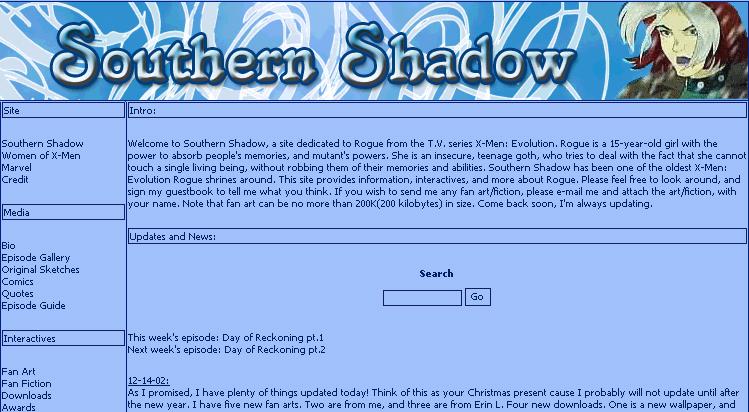 - This layout I liked a lot. I used it for a long time. Sure it had that cheery blue color, but it was different. Can you tell I used the same header for Southern Shadow in the last layout? Well I liked that header a lot, so I used it again. It seemed to fit this layout better than the last one did. Thanks to Day Dream Graphics for making the layout.

- I made this layout all by myself. Well anyway I went back to the dark gothy colors again. Some people complained that the navigation was a bit too hard, but how else could I fit all the links in that tiny little spot? It looked stupid if I put it in a box somewhere else, believe me. This was a nice layout and I used if for about 2 1/2 months.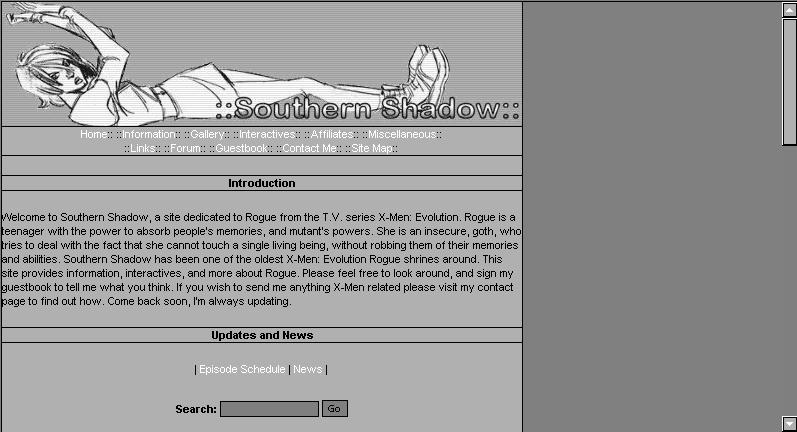 - Different kind of layout compared to the others. This one took on a sort of bloggish design with different shades of gray used for the color scheme. I'm not sure how I came up with it other than playing around with the coding. I like the title image I used and the colors the best. The only problem was the poor navigation because there was links within the links and pages within the pages.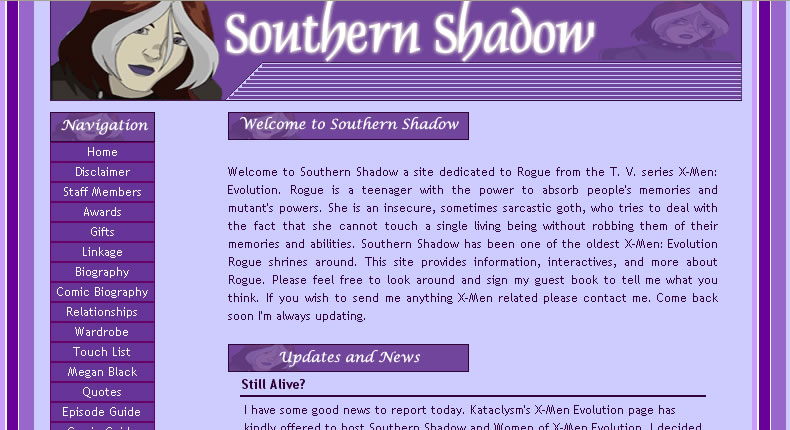 - Longest layout I have used probably to date. Tried something a little different from the rest of my layouts. I have had gray, blue, and even green layouts, so I figured it was time for a purple layout. Maybe to match Rogue's eye shadow makeup? This layout used a bit of php coding for the navigation, but nothing too fancy. The header image is kind of plain, but I didn't want to make it too distracting from the actual content this time.